Our hard case is a hard and durable pistol case that can fit almost any handgun and magazine. It is made of high-quality fiber-reinforced polymer with two lock ports and a place for a patch.
Features:
Lightweight and easy to carry.
Ergonomic Design.
Universal Case – Compartments suitable with a firm fit for any pistol and an extra magazine.
Provides an option to lock the case with a standard lock to prevent the reach of children.
Includes a special patch compartment for customization.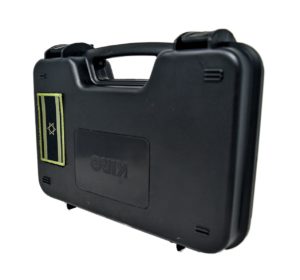 Dimensions:
Width: 300mm (11.8in).
Length: 240mm (9.45in).
Depth: 70mm (2.75in).
Weight: 550gr (1.2lb).
Warranty:
Our "Unlimited Lifetime Warranty" covers your purchase worldwide through the distributor, dealer, or online purchase.
For more information visit our warranty page: https://kiro-inc.com/warranty/